Pledged donations are the bedrock of the Cascade K-8 Community School PTSA funding. Donations pay for Fall and Spring Camps, field trips, enrichment programs, support for families in need, teacher supplies, all-school events, scholarships for after school programs, and more!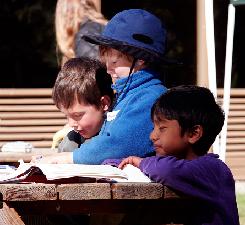 The requested donation is $50 per student per month for 10 months beginning in September.  Because 100% of CK8 students benefit from the innovative programs and activities at our school, we strive for 100% participation in the donation program. If you can't afford the entire suggested donation amount, that's ok! Please let us know what you can pay – any amount is accepted. If you are unable to donate at this time, that's ok too! Please fill out the form and select the appropriate option so we can have an accurate accounting of our fundraising need. And remember, your pledges are tax deductible (but we are not tax lawyers so please confirm with a tax professional)! All information provided is confidential and shared only with the pledge coordinator and Treasurers.
Any questions? Contact the Pledge Coordinator, pledge@cascadek8ptsa.org. And if you want to be involved with budgets and planning, we would welcome you on the finance committee! THANKS!
We understand not all families can commit to the full donation amount, so we have fundraising activities to supplement our budget. Please remember that completing the form enables us to plan our budget and assess our fundraising needs.  Any amount helps. Please fill out the form, indicating the amount you CAN commit to, and the schedule on which you will pay (options are on the form).  Then pay on your chosen schedule.  If circumstances change simply notify the pledge coordinator and we will update the records.
Our fiscal year begins July 1st. Please pledge now, but don't make any payments for your 2018-19 school year pledge until after July 1st!
You can pay for your pledge in the following ways:
From the Invoice

We will email you an invoice from Quickbooks that enables you to pay securely by ACH checking account withdrawal or by credit card (we are charged a fee).

Automatic Bill Pay

Most banks now allow you to set up one-time or recurring payments
Please use the following payee information: Cascade K-8 PTSA,2800 NE 200th St., Shoreline, WA 98155.
For the account number (or subject line), be sure to use your child's name on the subject line or account field, followed by "- Pledges"

Cash or Check

Be sure your child's name and "Pledge" is attached to cash payments or included on the subject line for check payments.
The most convenient way to submit these payments is at the monthly Community Gatherings!

Credit Cards

Sign up for "automatic" credit card withdrawals (Print this form and return to the Treasurer's box at school.
If you have any questions about paying the monthly pledge, you can always raise them at one of our Community Gatherings or by emailing our Pledge Coordinator.
One last note: Some companies offer matching funds for pledges – please check with your work place. Remember, we are a 501c-3 Non profit and our Tax ID is 91-1126090!
If you have not already submitted your form for the 2018/19 school year, please fill out the online pledge form.