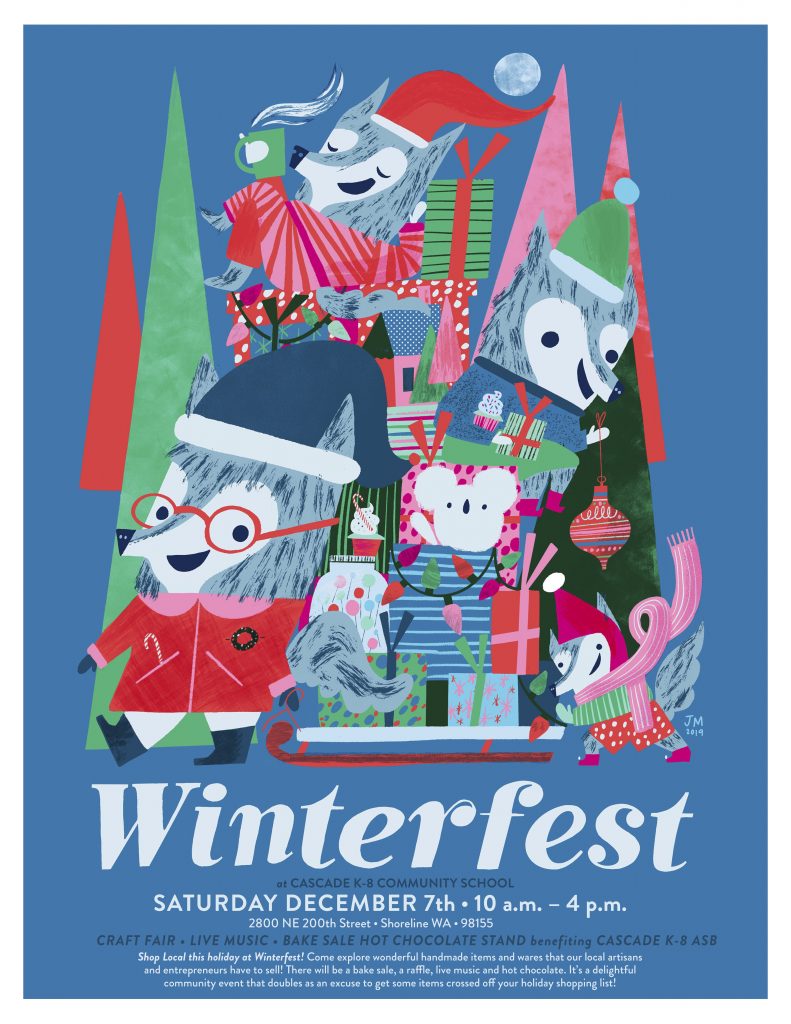 Winterfest 2019 is this weekend!
The 2019 Winterfest Craft Fair & Bake Sale will be December 7th, from 10am-4pm in the Cascade K-8 Gym. 
Find unique gifts such as locally-produced arts & crafts, jewelry and home products. Check out the creativity of our students at the art show. Enjoy baked goods, lunch items and live music. This year the Associated Student Body will be hosting a Hot Chocolate Bar! 
Vendor Information
Vendor booths start at $35. For more information and to register, visit our:
Advance set up will be on December 6th  from 7pm to 9pm, or starting at 9am on the day of the event. To register, ask questions, or for additional info about Winterfest, please email winterfest@cascadek8ptsa.org
Childcare Available During Winterfest!
As a fundraiser, our TSA (Technology Student Assoc.) team will have childcare for preschool (3 & 4 year olds) through 3rd grade on site this Saturday during Winterfest. Students will be supervised by middle school students and two adult chaperones. You can sign up for a whole or half day.  Parents do not need to be at Winterfest the whole time children are in childcare, so feel free to shop elsewhere, clean your house, take a nap, etc!
Prices are:
$25 for 9:30 to 1:00 with lunch and morning snack
$20 for 1:00 to 4:30 with snack but w/o lunch
$35 for the whole day (9:30-4:30) with 2 snacks and lunch included
Children do not need to be CK8 students or siblings, but all children must signed up by Friday afternoon. We can't take anyone without prior sign up.
https://docs.google.com/forms/d/e/1FAIpQLSciAjlylZcDFjQcQDPD9-8mudfZ28QShMVFwWj0AvRS37zokQ/viewform?usp=sf_link
The activities will take place in Becca's science room at the far end of the hallway and outside on the playground.
The plan for the day:
9:30 – 10:00 Drop off – outside on the playground (covered area or not) Playtime outside
10:05 – 10:20 Snack STEM Story time 1
10:20 – 11:05 Morning STEM Activity (Build a popsicle stick catapult)
11:10- 11:55 Stations: (ornaments, catapult competition, etc)
12:00 – 12:25 Lunch: Pizza – including gluten-fee/dairy-free.
12:30 – 1:00 STEM Story time 2
1:00 – 1:20 Outdoor Playtime and 2nd Drop off
1:25 – 2:20 Afternoon STEM Activity – (Grabber claw)
2:25 – 3:10 Second stations activity (ornaments, catapult competition, etc)
3:10 – 3:35 STEM Story time 3 / second snack
3:40 – 4:15 Bill Nye
4:15 to 4:30 clean-up, and pick up
Email Becca if you have any questions! rebecca.drury@shorelineschools.org